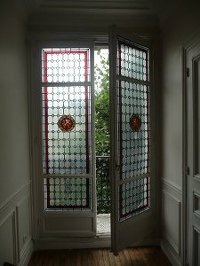 Examination of your stained glass panels - Paris & Ile-de-France
Stained glass windows are made to last. Their lifespan ranges from 100 to 900 years! However, periodic maintenance and repair may be required. It is critical to take care of your windows should you wish to keep them for long.

Have your windows examined on a regular basis. We will assess the situation of your windows and will provide guidance on steps to take to conserve, restore, protect or repair your windows.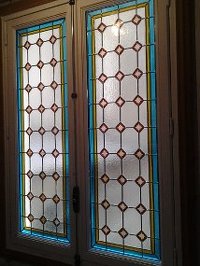 Stained glass panel protection and insulation
The stained glass panel can be encapsulated in a double glazed unit, installed onto the secondary single or multiple glazing to improve thermal or acoustic insulation in the building. The glazing can be strengthened and include an anti-vandal laminated glass.

There are two opportunities to encapsulate stained glass panels in double glazing windows:
- the design of a new stained glass panel: we manage the whole process, from design, making, double glazing encapsulation to installation of the glazing into the existing frame, or in new frames. In this case, the stained glass panel size is sized to the double glazing size to fit the frame.
- the renovation and protection of existing stained glass windows: the panels are removed from the frame in order to be cleaned up, broken panes are renovated and the whole window is releaded. Then the panels are inserted in double-glazing units to be installed in the current or new frames. The size of the panels may be adjusted to fit the tailored-made double-glazings.

There are multiple benefits to encapsulate a stained glass panel in a double glazing unit: to protect both sides of the stained glass window from weather conditions and vandalism, to optimize cleaning and maintenance, to improve thermal and possibly acoustic insulation...

The manufacture of a double glazing unit encapsulating a stained glass panel is a tricky technique that requires know-how and experience. It may not be appropriate in some cases. We urge you to seek guidance from a professional studio to find out what is the most appropriate protective measure given your specific conditions.

Irisations carries out the whole process, from removal to production and final installation and has already provided such services for several historic buildings.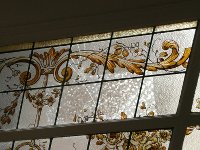 On-site stained glass panel repair
A few panes of glas are broken? When the lead is neither corroded or broken, we do fix cracked panes on site without removing the window.

When the panes do not have any paint, the broken panes are removed from their lead frame and a new pane of same size, color and texture is installed in the lead frame on site.

However, if there is a painted pane that is missing, or broken, we first record the sketch and size of the pane to reconstitue it in our studio. Once it is cut and painted, the pane is installed in the lead frame on site.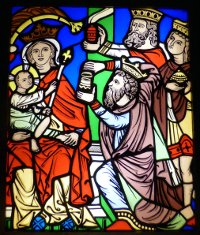 Design and making of back-lighted stained glass windows
This service can be provided upon request.
Art leasing or rental
Whether in your home or office, art leasing provides a flexible and cost effective way to create truly interesting spaces. Our contemporary stained glass windows will provide a unique opportunity to reinforce your corporate identity or simply to communicate your personal style. And the good news for business is that buying contemporary art is tax deductible.
Studio tour
Open House Days do take place on a regular basis in our studio in Saint-Rémy-lès-Chevreuse (78), France. So you can tour the studio and learn about stained glass and glass painting throughout the centuries and countries. More News

Group tours are set by appointment only during the week.